HEALTH WITH HILARY: HOLIDAY SEMINARS
There is NO MIRACLE DIET or QUICK FIX.  The only 'diet' that works is the one that you can actually stick to long term and that actually works for your individual body.  In these 1-hour seminars,  participants will set achievable goals, discover strategies to reduce barriers to meet defined goals, increase effective self monitoring, and learn how to problem solve to prevent relapsing back to old behaviors.
November Topic: Healthy Holiday Eating: How to use holiday feasting strategically for your strength + fitness goals.
  Tues, Nov 15   8:30am  | member: $12 |  nonmember: $18
  Mon, Nov 21   5:45pm  | member: $12 |  nonmember: $18
December Topic: The Effect of Stress on Metabolism: Why more rest might be the answer to fat loss. 
  Mon, Dec 5   8:30am  | member: $12 |  nonmember: $18
  Mon, Dec 12   5:30pm  | member: $12 |  nonmember: $18
January Topic: New Year, New You?  Sticking to a diet requires more than willpower.  Acquire the tools for successful lifestyle change. 
  Tues, Jan 3   8:30am  | member: $12 |  nonmember: $18
  Tues, Jan 3   5:30pm  | member: $12 |  nonmember: $18
Contact Us

One-on-One Health Coaching Sessions with Hilary are also available!
Call 540-564-5694 for more information.
Contact Us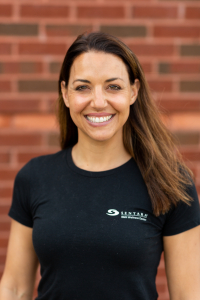 HILARY IRONS
Hilary has worked for the RMH Sentara Wellness Center as an ACE certified group fitness instructor since 2016. She has additional certification in Metabolic Effect Nutrition Science; Les Mills Tone and BarreAmped; as well as advanced certificates in Les Mills Core and Les Mills BodyPump. Most recently, she has completed her ACE Health Coach certification and is developing a new nutritionally based holistic health program currently titled, "Health with Hilary". Hilary cares deeply about achieving balance in life and desires to help people feel freedom from vast, conflicting, confusing health fad information so they can achieve their goals and actually enjoy their lives.
In addition to her fitness and health credentials, Hilary graduated from JMU with a Bachelor's degree in Vocal music education, and a minor in Dietetics. She is a VA state licensed choral music educator; an accomplished pianist and local accompanist; director of the SCC Dolphins Swim Team; board secretary of her neighborhood; treasurer of PKVES PTO;  wife and mother of 3 young children.   In each of these pursuits, she is well known for her skill set fueled by efficiency, energy, fun, and commitment to excellence.